Participants at the Ring the bell ceremony and training
8th March 2018: Global Compact Network Kenya, in partnership with Nairobi Securities Exchange, UN Women and the International Finance Corporation (IFC) held a full day training to over 50 rural Women in Kiambu county. The training aimed to economically empower women on the savings and financial opportunities available within the Capital
Markets,
while raising awareness on the importance of gender equality to both business and sustainable economic development. This year's

event

was themed: 'Time is now; leave no woman behind, advancing financial inclusion' in an effort to ensure that all households and businesses, regardless of income level, have access to, and can effectively use the appropriate financial services they need to improve their lives. Find more photos of the event here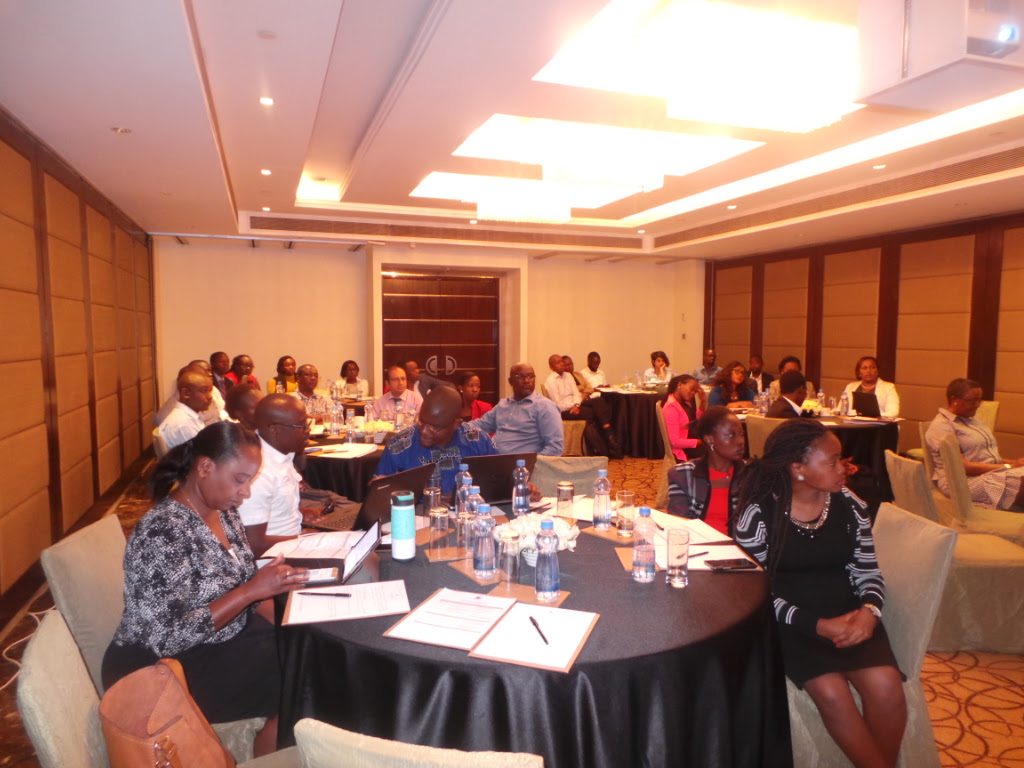 (L) Elijah Ambasa addressing participants (R) Participants at the workshop
28th February 2018: Global Compact Network Kenya held a half-day workshop on Anti-Corruption with a focus on developing a road map towards Collective Action and strengthening SMEs compliance to the Code of Ethics for Business in Kenya and the Bribery Act 2016. The workshop convened 40 participants drawn from Government, Business and Civil Society.
To Kick off the workshop the Network Coordinator Judy Njino welcomed the participants noting that more than 80% of the 800 companies that Global Compact Network Kenya supports are SMEs. The sector contributes to half of the country's GDP and 80% of them provide 800,000 jobs in the country, most of which are in the informal sector. She further noted that SMEs face various obstacles such as inadequate capital, market access, poor infrastructure, corruption and other unfavorable regulatory environments despite their huge potential to lift majority of the population out of poverty.
Ms Olajobi Makinwa, UN Global Compact Chief of Africa took the participants through an overview of the Siemens Project whose overall objective is to Improve the business environment by enabling companies to engage proactively and jointly tackle bribery and corruption by initiating, promoting, and supporting Collective Action Initiatives. She shared the objectives of the project was to validate the roadmap towards Anti-Corruption Collective Action. Objectives of the roadmap include:
To maintain continuity on an existing path towards Anti-Corruption Collective Action (AC CA)

Provide context/background to proposed AC CA initiative

Building the case for potential funders and providing a detailed project plan

To maintain energy and momentum among participants of the SII project
Siemens project manager Elijah Ambasa took the participants through the opportunities identified in the last Collective Action workshop and shared the selected priorities as incorporating the 3 tracks in the roadmap namely:
I. Pursue joint amendments to the Bribery Act, 2016 and establishment of its guidelines
II. Raise the standards of Anti-corruption compliance of Small & Medium-sized Enterprises (SMEs) through the development of a toolkit
III. Explore certification of companies upon compliance and pursue incentives such as preference in procurement
He informed participants of the decision by the Network to zero in on track 2 in regards to the development of the SME Toolkit.
Antony Kerori of Stealth Africa and Paul Annan took the participants through the elements of the draft roadmap and the draft SME toolkit respectively. During the break out sessions, participants gave feedback on key issues as follows:
Incentives to set up Anti-Corruption compliance systems include:
Lower cost of doing business for compliant companies from organisations such as KRA, Work Permits

More business opportunities for compliant companies from Government as well as other large companies

Prompt payment of SMEs by Large companies

Retention of employees with integrity

The efficiency of business services

Ensures business continuity, profitability and sustainability
Risks:
Loss of business in the short run due to compliance

Lack of buy-in from management

Difficulties attracting employees with similar values

Lack of commitment by all businesses

Monopoly in sectors
How SMEs can manage Anti-Corruption Compliance Program
Sensitize members of staff and allocate a team to spearhead implementation

Develop procedures to operationalize a compliance program

Set up procedures/mechanisms to report corruption/unethical conduct

Spot checks

Open door policy

Monitoring implementation

Reporting on progress made
With the development of the SME toolkit, the network will mentor two SMEs through the process of self-assessment and setting up of an internal compliance system. A call for participation will be sent out.
View more photos of the event here

31st January & 27th February: The Siemens Advisory Committee met ahead of the incubation workshop towards the development of the Anti-Corruption Collective Action