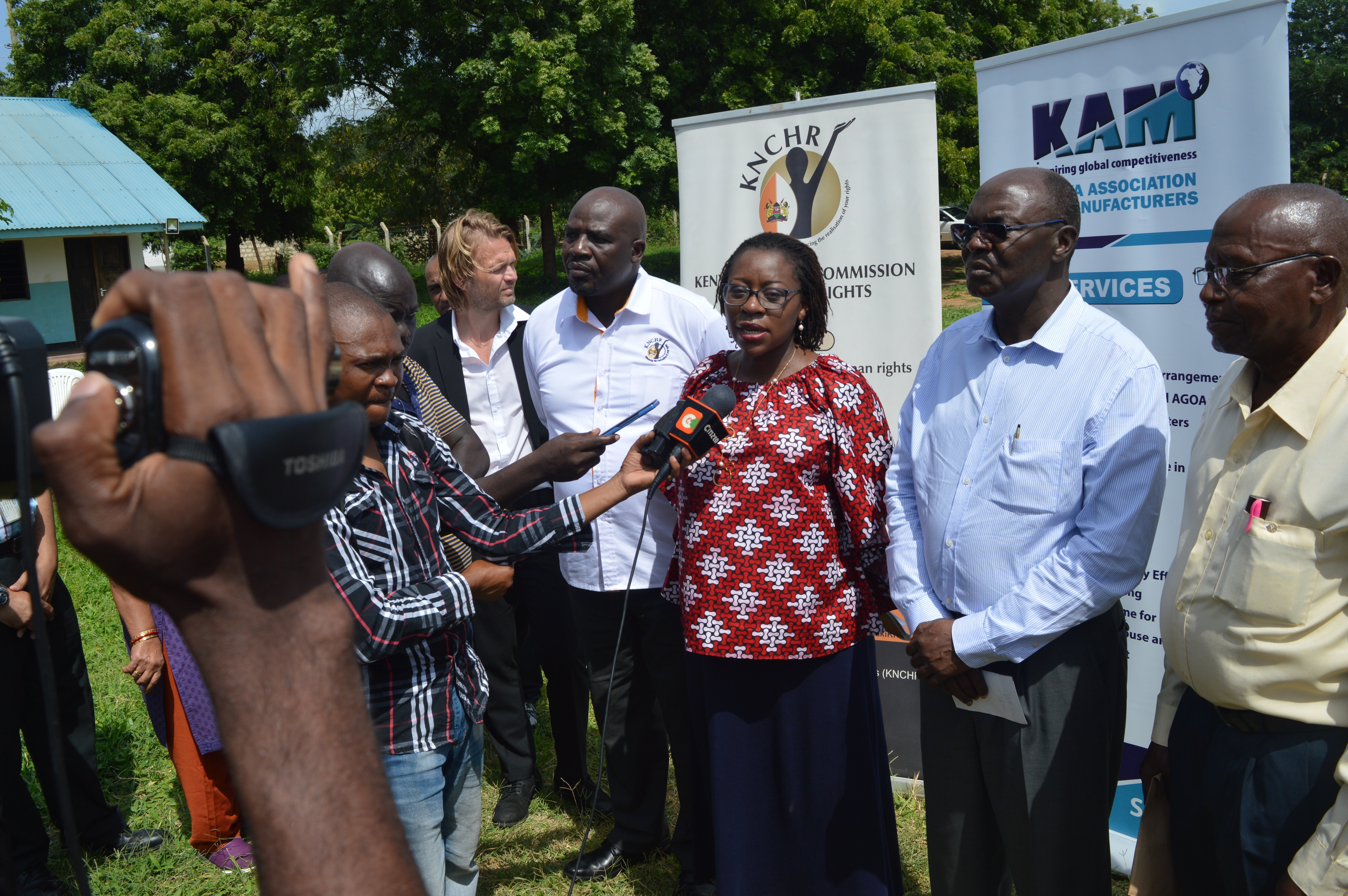 (L)Phyllis Wakiaga speaking to the press (R) Salt sector members at the launch of the report

Thursday, 7 June 2018, Gongoni: Kenya Association of Manufacturers (KAM) in partnership with the Kenya National Commission on Human Rights (KNCHR) supported by Global Compact Network Kenya and the Danish Industries launched the Malindi Public Inquiry Audit Report to establish progress on compliance with the Human Rights Principles and Standards by salt manufacturers.
The audit, that was conducted in February 2017 by KNCHR, was premised upon the 2006 Public Inquiry into allegations of Human Rights violations arising from the activities of salt manufacturing companies in Magarini in Malindi sub- County.
Speaking during the event, Global Compact Kenya Board Chair and KAM CEO Ms. Phyllis Wakiaga noted that the single most important function of a well-established manufacturing base for any country is to create social equity, reduce inequality and alleviate poverty.
'Respect for Human Rights as embedded in international standards and local laws ensures industry contribution to sustainable development is meaningful and lasting. We continue to work with Salt manufacturing companies in our membership through a multi-stakeholder engagement model to ensure industry contribution to human rights and development is both positive and sustainable,' said Ms. Wakiaga.
Also present at the event, KNCHR Vice Chairperson, Commissioner George Morara reiterated the importance of businesses supporting and respecting the protection of internationally proclaimed human rights, adding that it is essential for industry to ensure that they are not complicit in human rights abuses.
'The Report has demonstrated the different levels of compliance as well as good practices adopted by some companies. Development of tools, both qualitative and quantitative data was collected through inspection of individual companies and interviews with the company Directors and Workers. The report is an opportunity for those companies lagging behind to learn and adopt good practices from fellow salt companies,' said commissioner Morara.
Progress noted from the inquiry includes the formation of the Salt Sub-Sector under the stewardship of KAM and Global Compact Kenya with the general objective of driving self-regulation while maintaining the highest standards of business ethics. By extension, a sector wide company-community dialogue and action process was established to address various contentious issues around land ownership, labour management, security, environmental protection and served as an alternative dispute resolution mechanism.
A Corporate Social Responsibility (CSR) community committee was also formed to facilitate participatory approaches in the selection of community social investment projects. This has led to an increase in project ownership while ensuring investments are responsive to communities felt needs. The CSR community committee as right holders have also been trained on various issue areas such as land ownership laws, labour laws, environmental conservation, proposal writing and time management to equip them with knowledge and skills to engage in meaningful dialogue with other stakeholders.
The Salt industry is a key sector in Kilifi county, and employs over 1,100 workers directly from the community and contributes substantially to the socio-economic development of the county through various social investments.
While significant progress has been made by the Salt companies individually and collectively, the report calls on various stakeholders to play their part in addressing long-standing challenges in the Magarini region among which is land ownership which remains a deeply rooted thorny issue and cause of conflict.

The UN Global Compact calls on companies to take fundamental steps to respect universal Human Rights principals within their operations and supply chains. This means companies must identify, prevent, mitigate and account for all negative impacts they may have on society and the environment. They must also consider business risks related to each Sustainable Development Goal (SDGs) and adjust their business practices to avoid creating harm which would thereby undermine the SDGs.

Learn more on what your company can do to respect Human Rights here
17 May 2018: Global Compact Kenya in partnership with Global Reporting Initiative (GRI) held a
half-day
workshop on Sustainability Integration for value creation that
convened
33 sustainability practitioners from business and
non-business sectors. The workshop facilitated by Douglas Kativu, Head of GRI Africa, featured interactive sessions with participants and provided a platform for sharing ongoing good company practices on sustainability integration.

A 2017 UN Global Compact progress report that assessed the extent to which companies are implementing the Ten Principles and taking action on the Global Goals showed over 90% of companies in the initiative have policies in place on all the Principles. However, companies still face challenges in turning policies into action with a significantly lower number setting targets, conducting impact assessment or monitoring performance.
Participants at the workshop
The session was therefore designed to help companies bridge the gap between action and intentions by demonstrating the value of integrating sustainability and processes and methodologies they can use to enable integration.

Discussing trends in sustainability integration, participants observed the role of regulations such as the Code of Corporate Governance Practices for Issuers of Security to the public and industry led initiatives such as the Sustainable Finance Initiative (SFI) for the Banking sector in driving and accelerating action towards sustainable development in Kenya.

The meeting also discussed key barriers and enablers for integrating sustainability such as leadership and a tradition of short-termism where companies de-prioritize long-term value opportunities and reward short-term decisions. This business as usual mindset stands in the way of companies truly contributing positive outcomes for all.

The role of reporting was also discussed as critical in helping business assess their value and enhancing stakeholder relationships. Participants learnt how stakeholder engagement can help a company understand the priorities and expectations of its stakeholders while gathering useful insights on its sustainability performance. Reporting therefore should be seen as a means to an end and not an end in itself.
The meeting concluded with a call to all companies to voluntarily integrate sustainability and make it a national movement for transformative change to occur in meeting its development goals.

Click here to view more photos of the event.
Members of the board
21st March 2018: Global Compact Network Kenya held its first board meeting of the year. The Kenya Network board provides high-level strategic guidance to the Network Secretariat and draws participation from the Networks membership