Nairobi, May 31, 2019 – As part of the 2019 United Nations Global Compact SDG Pioneers programme, Global Compact Network Kenya recognized the first ever Kenya SDG Pioneer — young business leader who is championing the Sustainable Development Goals (SDGs) through her company and inspiring others to advance the 2030 Agenda for Sustainable Development.
Chosen from over twenty nominations, the Network is proud to recognize Dr. Joyce Sitonik as its SDG Pioneer. Unwavering in her commitment to help reduce premature mortality from non-communicable diseases through prevention and treatment and promoting mental health and well-being, Dr. Sitonik is contributing to SDG 4 on Good health and Wellbeing. As part of her strategy to advance the SDGs through the company's core business, she saw an opportunity to leverage the company's existing technical capacity, brand positioning and heritage to view health risk management differently as a product and to address emerging local and global health risks.
Dr. Sitonik led in the design of tailor-made corporate wellness packages implemented through office based awareness and screening programs for non-communicable diseases (NCDs) and mental health. AAR Wellness Program has resulted in a six-fold growth in the number of people screened for NCDs from just over 1,000 in 2016 to over 6,000 in 2018. The program has been able to successfully identify more than 100 cases with high risk for cancer and more than 500 new cases of high blood pressure. According to the Ministry of Health, it is estimated that Non-communicable diseases account for over 55 per cent of deaths in Kenya and over 50 per cent of hospital admissions.
"Business action is undoubtedly central to the achievement of the Sustainable Development Goals," says Judy Njino, Executive Director of Global Compact Network Kenya, "and there is no better catalyst of business action than the young professionals- who are the leaders of tomorrow- pushing the boundaries in each and every company".
As the winner of the national round, Dr. Sitonik will now compete in the global round along with other candidates for the title of 2019 UN Global Compact SDG Pioneers. The global winners will be announced this September in New York during the UN General Assembly.
"We are excited to help young professionals innovate new business solutions to address today's global challenges," says Lise Kingo, CEO & Executive Director of the UN Global Compact. "Leadership in the 2030 era requires change agents. Change agents don't sit around waiting for the future to happen. They create it. They do not choose the path of least resistance. They stay the course, also when they are ridiculed or fought. In the end — they win. They have the future on their side."
About the SDG Pioneers Programme
As a special initiative of the UN Secretary-General, the United Nations Global Compact works with companies everywhere to align their operations and strategies with ten universal principles in the areas of human rights, labour, environment and anti-corruption. Launched in 2000, the UN Global Compact guides and supports the global business community in advancing UN goals and values through responsible corporate practices. With more than 9,500 companies and 3,000 non-business signatories based in over 160 countries, and 70 Local Networks, it is the largest corporate sustainability initiative in the world.
The Kenya network is the local focal point working to support 1000 Kenyan companies to integrate the ten principles and SDGs within core business.
For more information, follow us on social media - Twitter: @globalcompact @globalcompactKE, Facebook:@GlobalcompactKE and visit our website at UN Global Compact.

Contact
Global Compact Network Kenya
Cynthia Kimilu
Network Support Officer
Tel: 254 (20) 232 4818/8 | Mobile: 254 720 122 819
Email: This email address is being protected from spambots. You need JavaScript enabled to view it.

(L)Ms Flora Mutahi (R) Members of the board

Thursday, 21st June 2018, Nairobi: The United Nations Global Compact yesterday announced UN Secretary-General António Guterres' appointment of Ms Flora Mutahi, CEO, Melvin Marsh International to the Board of the UN Global Compact. The UN Global Compact Board plays an important role in shaping the strategy and policy of the initiative, which acts as the United Nations flagship for responsible business action.
Ms. Mutahi, described as one of the most dynamic female entrepreneurs in Africa, is a leading manufacturer in Kenya and a renowned industry expert. She is the founder and CEO of Melvin Marsh International – a company known for making the popular Melvins flavored tea blends, salt and rice products under the brand name - Melvins. She is the Kenya Association of Manufacturers Chairlady, and the patron of the Women in Manufacturing Caucus -a mentorship and networking platform aimed at increasing the participation of women in the manufacturing sector.
"It is an honor to be appointed to this position, I look forward to championing responsible business practices in Kenya and the wider Africa region through the integration of the UN Global Compact principles in business as well as the implementation of the Sustainable Development Goals to achieve Vision 2030 and Agenda 2063," said Ms. Mutahi.
On the announcement, Lise Kingo, CEO & Executive Director of the UN Global Compact, said: "We are delighted to announce the new Board of the United Nations Global Compact, chaired by UN Secretary-General António Guterres, with Bola Adesola and Paul Polman serving as Vice-Chairs. This new Board is the most diverse and streamlined Board the UN Global Compact has ever had, with Members representing business from all over the world alongside civil society and other stakeholders. Together, they will help guide the strategic direction of the UN Global Compact as we work to mobilize a global movement of sustainable companies and stakeholders to create the world we want. I look forward to working with each of our Board Members over the coming years."
Designed as a multi-stakeholder body, the Board provides ongoing strategic and policy advice for the initiative. Board members are considered champions who are willing and able to advance the mission of the UN Global Compact. They act in a personal, honorary and unpaid capacity.
As the world approaches the third anniversary of the adoption of the Sustainable Development Goals, the UN Global Compact Board will be instrumental in helping to bring business to the table in support of Agenda 2030.
Melvin Marsh International is a signatory to the UN Global Compact and the Code of Ethics for Business in Kenya and an active participant of the Global Compact Network Kenya.

Congratulations Ms. Mutahi!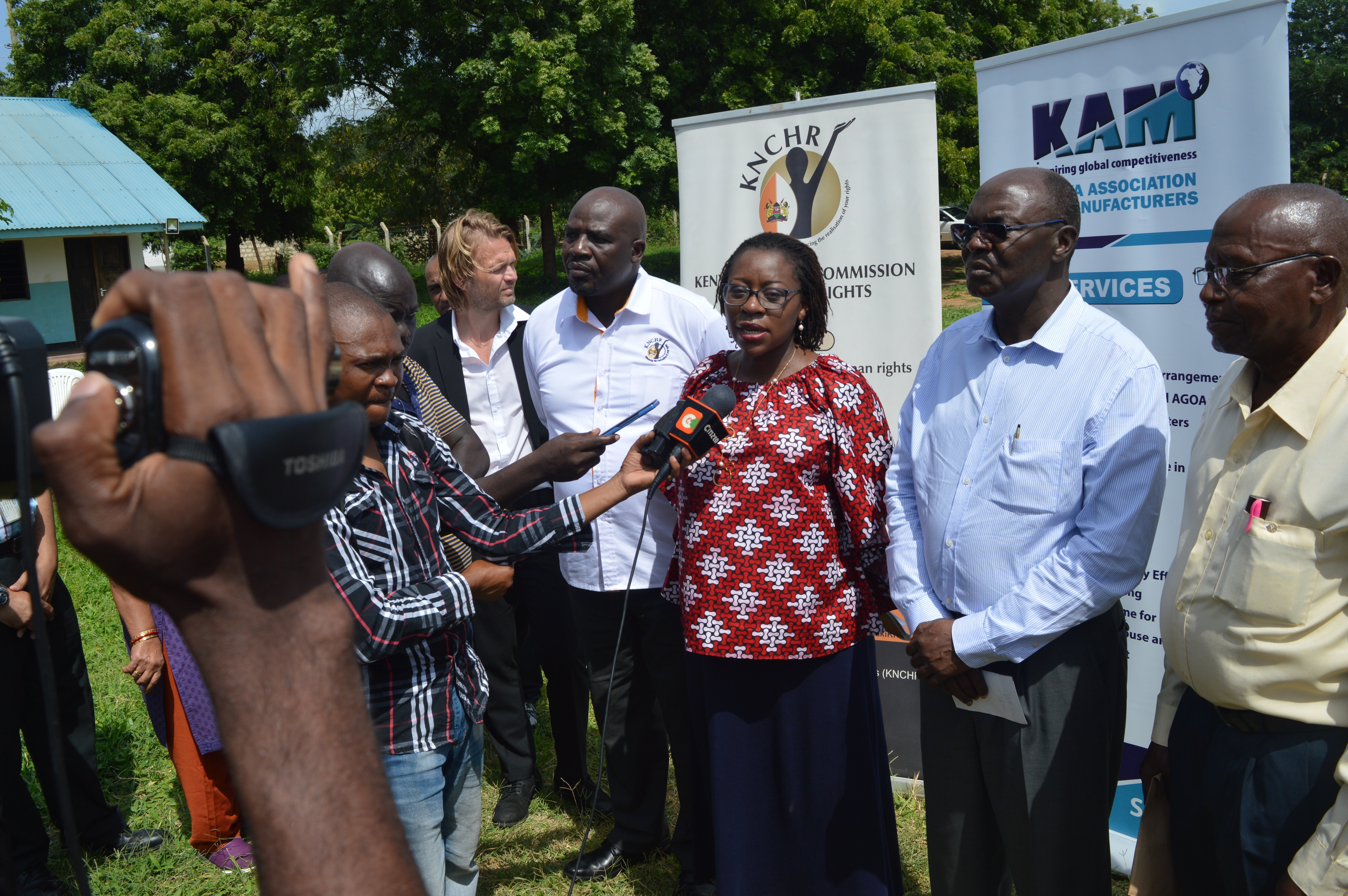 (L)Phyllis Wakiaga speaking to the press (R) Salt sector members at the launch of the report

Thursday, 7 June 2018, Gongoni: Kenya Association of Manufacturers (KAM) in partnership with the Kenya National Commission on Human Rights (KNCHR) supported by Global Compact Network Kenya and the Danish Industries launched the Malindi Public Inquiry Audit Report to establish progress on compliance with the Human Rights Principles and Standards by salt manufacturers.
The audit, that was conducted in February 2017 by KNCHR, was premised upon the 2006 Public Inquiry into allegations of Human Rights violations arising from the activities of salt manufacturing companies in Magarini in Malindi sub- County.
Speaking during the event, Global Compact Kenya Board Chair and KAM CEO Ms. Phyllis Wakiaga noted that the single most important function of a well-established manufacturing base for any country is to create social equity, reduce inequality and alleviate poverty.
'Respect for Human Rights as embedded in international standards and local laws ensures industry contribution to sustainable development is meaningful and lasting. We continue to work with Salt manufacturing companies in our membership through a multi-stakeholder engagement model to ensure industry contribution to human rights and development is both positive and sustainable,' said Ms. Wakiaga.
Also present at the event, KNCHR Vice Chairperson, Commissioner George Morara reiterated the importance of businesses supporting and respecting the protection of internationally proclaimed human rights, adding that it is essential for industry to ensure that they are not complicit in human rights abuses.
'The Report has demonstrated the different levels of compliance as well as good practices adopted by some companies. Development of tools, both qualitative and quantitative data was collected through inspection of individual companies and interviews with the company Directors and Workers. The report is an opportunity for those companies lagging behind to learn and adopt good practices from fellow salt companies,' said commissioner Morara.
Progress noted from the inquiry includes the formation of the Salt Sub-Sector under the stewardship of KAM and Global Compact Kenya with the general objective of driving self-regulation while maintaining the highest standards of business ethics. By extension, a sector wide company-community dialogue and action process was established to address various contentious issues around land ownership, labour management, security, environmental protection and served as an alternative dispute resolution mechanism.
A Corporate Social Responsibility (CSR) community committee was also formed to facilitate participatory approaches in the selection of community social investment projects. This has led to an increase in project ownership while ensuring investments are responsive to communities felt needs. The CSR community committee as right holders have also been trained on various issue areas such as land ownership laws, labour laws, environmental conservation, proposal writing and time management to equip them with knowledge and skills to engage in meaningful dialogue with other stakeholders.
The Salt industry is a key sector in Kilifi county, and employs over 1,100 workers directly from the community and contributes substantially to the socio-economic development of the county through various social investments.
While significant progress has been made by the Salt companies individually and collectively, the report calls on various stakeholders to play their part in addressing long-standing challenges in the Magarini region among which is land ownership which remains a deeply rooted thorny issue and cause of conflict.

The UN Global Compact calls on companies to take fundamental steps to respect universal Human Rights principals within their operations and supply chains. This means companies must identify, prevent, mitigate and account for all negative impacts they may have on society and the environment. They must also consider business risks related to each Sustainable Development Goal (SDGs) and adjust their business practices to avoid creating harm which would thereby undermine the SDGs.

Learn more on what your company can do to respect Human Rights here